Our Guesthouse
Hospitality, comfort, cosiness and a family atmosphere are only part of what you can expect from us. Whether you are a holidaymaker, a wine lover or just passing through, you'll feel completely at home with us. Come in, welcome and enjoy!
We have 15 modern guest rooms and 5 spacious apartments waiting for you. We also invite you to a large and rich breakfast buffet in our new wine restaurant.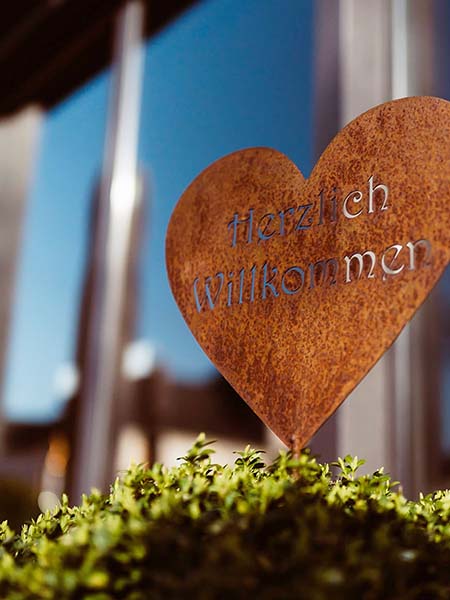 Stay in our guesthouse
Since 02.04.2022 no more covid regulations apply in restaurants or hotels in Rheinland-Pfalz.
Nittel
Nittel is our home town and it lies directly on the border to Luxembourg. The three-nation triangle formed by Germany, France and Luxembourg is known for wines of outstanding quality. Whether you are taking a walk along the Mosel, on the rocky path or the Weinlehrpfad (informative wine trail), the romantic ambience of the Mosel will accompany you at every turn.
As a state-approved health resort, Nittel offers you everything you need to make your holiday beautiful and unforgettable. You can find more information here: www.nittel-mosel.de
Be it at midday or in the evening after an excursion – our wine tavern with its varied cuisine is a wonderful place to stop by.
Three-nation triangle
Nittel lies idyllically on the Mosel, in the three-nation triangle between Germany, France and Luxembourg, From our beautiful wine village you can reach historic towns and wonderful cultural monuments within a very short time.
For example, explore the old town of Luxembourg, which is only 20 minutes away, or Malbrouck Castle, which is located directly in the three-nation triangle. Trier, the oldest town in Germany, is about 25 minutes away. Here you can tour many Roman buildings, such as the Porta Nigra, the amphitheatre or the Imperial Baths.
On the Saar River in Rhineland-Palatinate, you will find the hermitage (Klause) in a fantastic location near Kastel-Staadt and the idyllic Saarburg with its castle ruins and large waterfall in the middle of town.
In the neighbouring Saarland, near Mettlach, lies the world-famous Saarschleife.
Activities
Cycling
Also and especially as a cyclist you have many possibilities to get to know the beautiful surroundings. The Mosel, Saar and Sauer rivers, the town of Trier, Saarburg, Luxembourg and France are interesting every day destinations. Grab this chance and explore the unique landscape of the three-nation triangle on two wheels. A bicycle garage, complete with an e-bike charging station, is ready and waiting for you.
Hiking
Enjoy the beautiful vineyard landscape along the Mosel. You have many different hiking routes to choose from. Whether you want to take it easy and explore the 1.3 km long educational wine trail through the Nittel vineyards or take a more challenging hike along the unique rocky path (Felsenpfadt) with its wild orchids and views stretching as far as Luxembourg and France, the choice is yours. There is something here for every hiking enthusiast.
Mosel hiking trail (Moselsteig)
The Mosel hiking trail (Moselsteig) was officially opened on 12 April 2014. The long-distance hiking trail covering over 365 kilometres follows the entire course of the Mosel river from France to Koblenz. This hiking trail is divided into 24 stages and has been awarded the seal of the German Hiking Association "Qualitätsweg Wanderbares Deutschland" and the European hiking seal "Leading Quality Trail – Best of Europe". From Nittel you have the possibility to hike several stages up and down the Mosel.